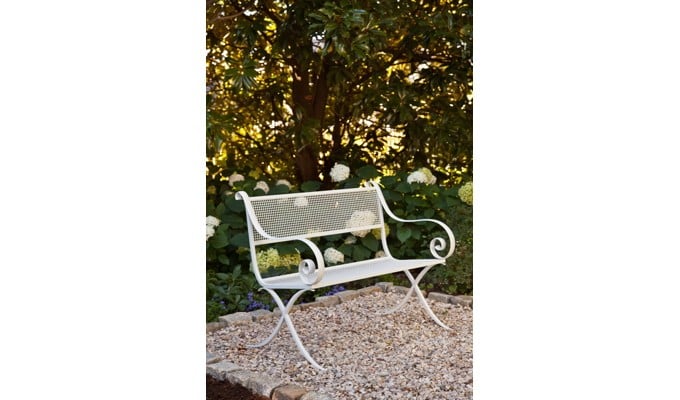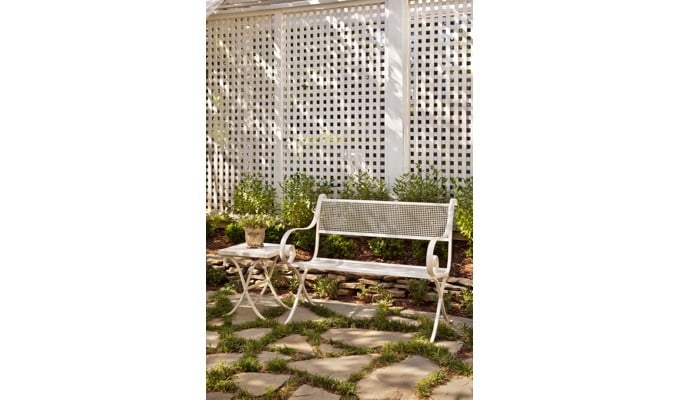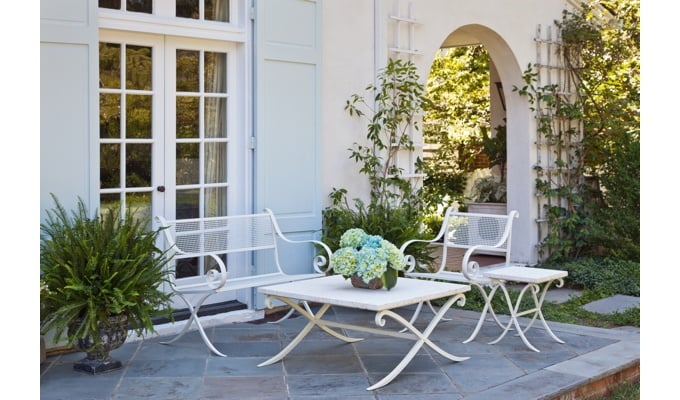 Estate Garden Bench
SKU TCGB001
---
PRICE: Please contact us for pricing.
PRODUCT DESCRIPTION: Because nothing matches the enduring beauty of hand-forged iron, the Estate Garden Bench resurrects the time-honored metal-craft by featuring classic scrolled arms and elegantly curved legs balanced by a modern squared lattice seat and back, that is equally at home indoors and out. In the age of aluminum, this custom-made wrought iron garden bench stands out with details such as gently hammered legs, finely honed rivets and subtly tapering feet, revealing the natural sensuality of hand-forged iron.
USE: Indoor/Outdoor
COLOR: Magnolia White
---
SHIPPING: Allow 10-12 Weeks for delivery, as each piece is made-to-order especially for you. Please contact us for a shipping quote. We will work with you to determine the most cost-effective method of packaging and transport based on the size of your order and your location.
PRODUCT DETAILS
Frame Materials and Finish:
● Hand-forged iron frame with patterned iron seating platform
● High-performance marine grade paint
Care of Frame and Finish:
● MTL uses a high-performance marine grade paint on their wrought iron furniture to ensure years of outdoor use.
● For best long-term care, wipe clean with a damp cloth.
Other Features of the Product:
● Paint color can be customized to client specification.
DIMENSIONS & WEIGHTS
Dimensions (Inches and Centimeters)
W (Width) 40.5 in l 102.87 cm
D (Depth) Base 25 in l 63.5 cm
D (Depth) Total 26 in l 66.04 cm
H (Height) 33 in l 83.82 cm
SH (Seat Height) 16 in l 40.64 cm
SD (Seat Depth) 17 in l 43.18
SW (Seat Width) 40 in l 101.6 cm
AW (Arm Width) 1.5 in l 3.81 cm
AH (Arm Height) 24.5 in l 62.23 cm
Weight (LB and KG)
71.5 lbs 32.43 kg