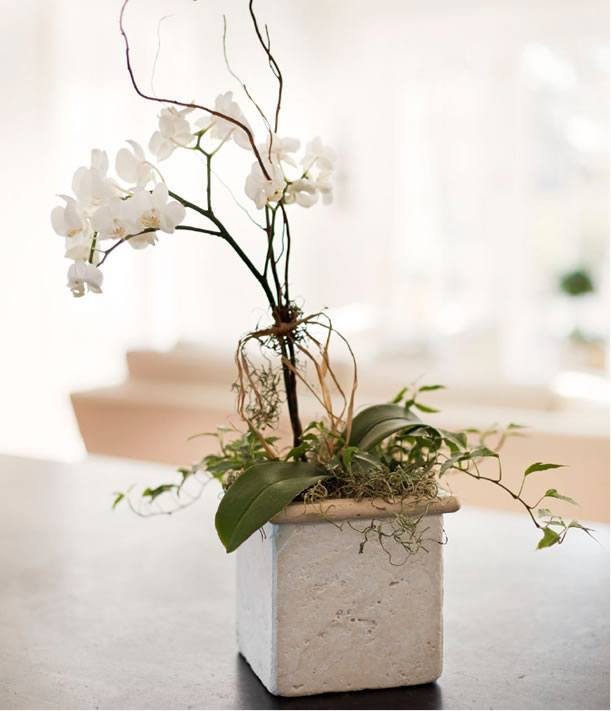 STONE PLANTERS
These natural stone planters were designed by Richmond landscape designer Meg Turner and custom-made by Richmond mason Cayce Craddock. The exquisite yet subtle beauty of the stone, coupled with the clean lines of the container, lends a timeless and elegant note to the garden, terrace, mantle or tabletop.Travertine Travertine is a type of limestone formed in hot springs and limestone caves. It is a terrestrial sedimentary rock, and thus its surface often reveals fossils. Many important buildings throughout the world, including the Colosseum in Rome, the Sacre-Coeur Basilica in Paris and the Getty Center in Los Angeles are made primarily from Travertine.
Care and Maintenance: Travertine and marble are soft stones and absorbent. They should be brought indoors or emptied and stored before temperatures freeze in the fall, to avoid cracking due to the freeze-thaw cycle. Plants should be re-potted when roots become too large for the planter. Planters should be periodically emptied and cleaned to preserve the natural beauty of the stone. The inside of the planters is water-proofed, and the outside is sealed with Aqua-Mix.
| | |
| --- | --- |
| 6 inch Travertine | 8 inch Travertine |
| | |
Please email us at info@mturnerlandscapedesign.com for pricing or to inquire about ordering.