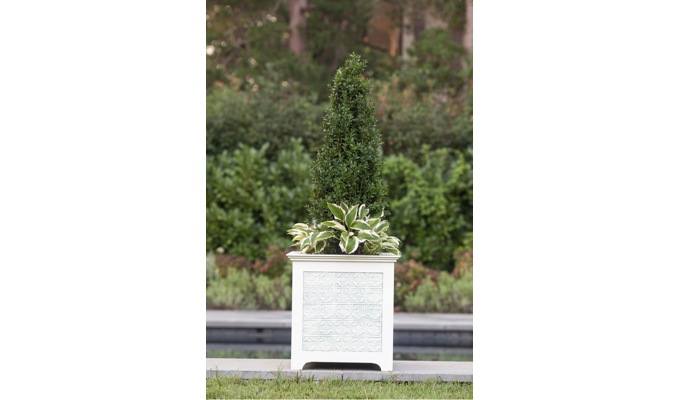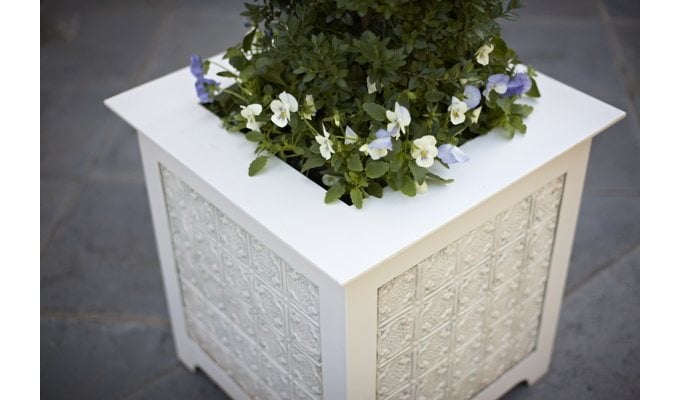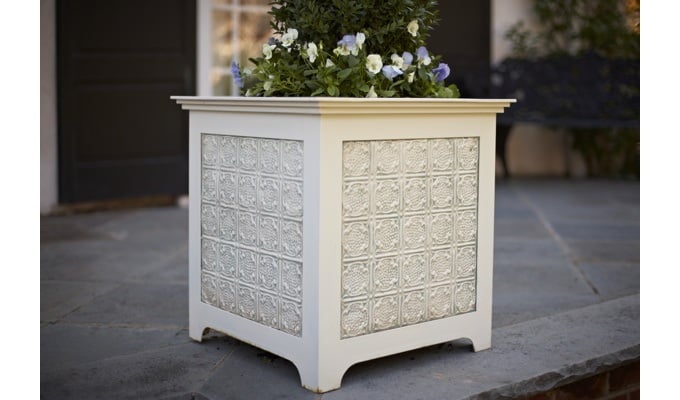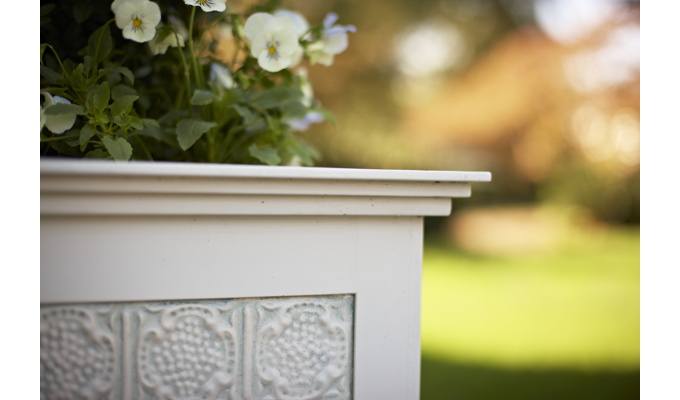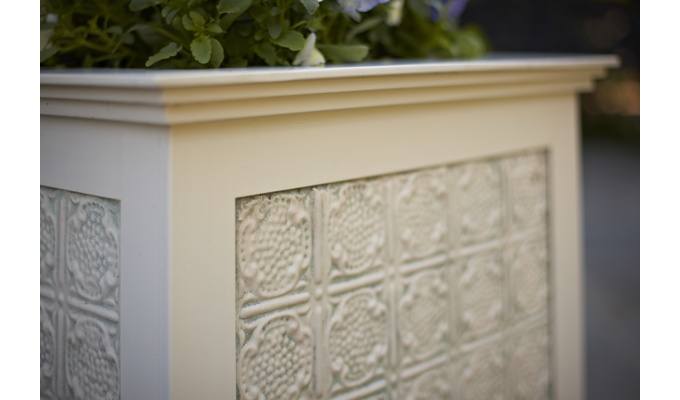 Vintage Ceiling Tile Estate Planter
SKU ECTPS009
---
PRICE: Please contact us for pricing.
PRODUCT DESCRIPTION: We scour the South looking for reclaimed beautifully patterned vintage ceiling tins that have been saved from demolition, and give them new life by featuring the tiles as central panels in classically proportioned planters. The subtly patterned panels enhance the plantings, rather than compete with them. The tin panels are framed in sturdy and durable steel, then primed and painted for use indoors or outdoors. The planters include galvanized steel liners with handles to allow for easy transplanting. Because the planters are made to order, we can customize many features, including the tiles (based on the currently available inventory of reclaimed tiles), the size and the color. The natural aging process in an outdoor environment will create variations in the patina that add character and distinction to every planter.
USE: Indoor/Outdoor
COLOR: Magnolia White
---
SHIPPING: Allow 10-12 weeks for delivery, as each piece is made-to-order especially for you. Please contact us for a shipping quote. We will work with you to determine the most cost-effective method of packaging and transport based on the size of your order and your location.
PRODUCT DETAILS
Frame Materials and Finish:
● Steel frame and decorative tin tiles
● High-performance marine grade paint
Care:
MTL uses a high-performance marine grade paint on their metal furniture to ensure years of outdoor use.
● For best long-term care, wipe clean with a damp cloth. Should rust spots develop, lightly sand surface to remove spot and touch up using supplied kit.
● To ensure the health of plants and planter, it is highly recommended that plants be re-potted once their roots outgrow the size of the planter.
Other Features of the Product:
● Customer can specify custom tile inlay.
● Available as shown and in custom sizes and finish colors as specified by customer.
DIMENSIONS & WEIGHTS
Dimensions (Inches and Centimeters)
Planter
Overall W (Width) 21.25in | 53.97 cm
Overall D (Depth) 21.25 in | 53.97 cm
Overall H (Height) 21.25 in | 53.97 cm
Weight (LB and KG)
76 lbs | 34.47 kg (approx)